A vast geography encompassing open deserts and densely populated metropolises, the borderland between the United States and Mexico has long been a site of not only political conflict and social struggle but also intense creative ferment. Taking a new curatorial and filmmaking approach, Art21 connects and juxtaposes a group of acclaimed artists as they work along the U.S.-Mexico border, interweaving their stories to chronicle the creative responses to one of most divisive moments in the history of this area. From an epic interactive searchlight installation along the El Paso–Juárez divide to a deeply personal performance at the Tijuana border wall, these artists consider the border as an open wound, a theatrical stage, a political podium, a studio, and a contradictory landscape that features both ugliness and beauty. This episode explores how contemporary art can reveal the new and unexpected, asking viewers to question their preconceived notions of a place seemingly made familiar by mass media. Ultimately, the artists featured in this hour challenge themselves and audiences to embrace a more empathetic view of one of the most contested areas in North America.
More information and credits
Credits
Executive Producer: Tina Kukielski. Series Producer: Nick Ravich. Directors: Rafael Salazar Moreno and Ava Wiland. Producer: Ava Wiland. Editors: Rafael Salazar Moreno and Russell Yaffe. Director of Photography: Rafael Salazar Moreno.
Production Services: RAVA Films. Assistant Curator: Danielle Brock. Associate Producer: Julia Main. Post-Production Coordinator: Alexandra Lenore Ashworth. Design & Animation: Momentist, Inc. Composer: Joel Pickard. Additional Music: Amalia Mondragón. Advising Producer: Ian Forster. Additional Art21 Staff: Lauren Barnett, Lolita Fierro, Joe Fusaro, Meghan Garven, Jonathan Munar, and Emma Nordin.
Additional Photography: Elan Alexenberg, Robert Biggs / Phoenix Drone Pros, Gina Clyne, Adrian Gutierrez, Nick Kraus, Christoph Lerch, and Alejandro Almanza Pereda. Tijuana Field Producer: Yadira Avila. Location Sound: Ariel Baca, Jacob Bloomfield-Misrach, Nikola Chapelle, Michael Cottrell, Rayell Abad Guangorena, Veronica Lopez, Baili Martin, Nathalie Piché, Chris Tolan, and Ava Wiland. Production Assistants: Ben Derico, Jake Grossman, Jacquelin de Hoyos, Keira Kennedy, Zac Settles, and Jorge Villarreal.
Digital Intermediate: Cut + Measure. Post-Production Producer: Alex Laviola. Colorist: David Gauff and Jerome Thélia. Post-Production Sound Services: Konsonant Post. Re-Recording Mixer & Sound Editor: Gisela Fullà-Silvestre. Online & Conform: David Gauff. Additional Animation: Andy Cahill. Assistant Editor: Jasmine Cannon, Jonah Greenstein, and Mengchen Zhang. Translation: Ava Wiland and Russell Yaffe. Video Quality Control: Jonathan Hansen.
Artwork Courtesy: Tanya Aguiñiga, Guillermo Galindo, Rafael Lozano-Hemmer, Richard Misrach, Postcommodity / Cristóbal Martínez & Kade L. Twist, Bockley Gallery, Fraenkel Gallery, Pace Gallery, and Volume Gallery. Past Postcommodity Collaborators: Raven Chacon (2009–2018), Steven Yazzie (2007–2010), and Nathan Young (2007–2015).
Archival Materials: AMBOS Project; Antimodular Research; AP Archive; Aperture
Artbound / KCET; Isaac Arnstein / Cinewest Archives; Jenna Bascom, Courtesy of Museum of Arts and Design, New York; Border Art Workshop / Taller de Arte Fronterizo; Cecilia Brawley; Critical Past; Cory Doctorow; Sam Wainwright Douglas / Big Beard Films; Benjamin Duffield / Fierce Bad Rabbit Pictures; Filmoteca UNAM; Jason Grubb; John McNeil studios; NASA; Pond5; and Jack Snell.
Public Relations: Cultural Counsel. Station Relations: De Shields Associates, Inc. Legal Counsel: Barbara T. Hoffman, Esq. Interns: Shane Daly, Grace Doyle, Eda Li, Daniela Mayer, Jason Mendoza, Nikhil Oza, Anika Rahman, Ana Sanz, Sara Schwartz, Victoria Xu, and Sadie Yanckello.
Postcommodity Artwork: "A Very Long Line," 2016. Whitney Museum of American Art, New York; purchase with funds from the Director's Discretionary Fund, Russell Cowles and Stuart & Kate Nielsen.
Special Thanks: The Art21 Board of Trustees; The Aguiñiga Family; Lorena Alvarado; Saúl (Cassandro) Armendáriz; Armory Center For the Arts; Art Institute of Chicago; Andrew James Benson; Merche Blasco; Todd Bockley; Charlie Byrne; Leslie Moody Castro; Peter Catalanotte / Film Tucson Office; Karine Charbonneau; Matthew Coolidge; Ian Daniel; Kerry Doyle; Pamela Echeverría; Lauren Dapena Fraiz; Guillermo Galindo; Melissa Saenz Gordon; Dana Funaro Hallonquist; Hammer Museum; Edgar Hernandez; ICA Boston; Laura Kiernan; Esther Knuth; LAXART; Joanne Lefrak; Miguel Legault; Long Beach Museum of Art; MediaU; Julio César Morales; Nadine Mundo; Museo de Arte Contemporáneo de Monterrey; Micah Musheno; Office of Public Affairs, U.S. Customs and Border Protection; Edgar Picazo; Eva Respini; Rubin Center for the Visual Arts / The University of Texas at El Paso; San Francisco Art Institute; Chris Scorza; Sovanchan Sorn; Starlite & Rod Kustom Garage; Michael Sugarman; The Annenberg Space for Photography; Christine Turner; Lekha Hileman Waitoller; Hamza Walker; Claire Warner; and Jay Wehnert.
Major underwriting for Season 10 of Art in the Twenty-First Century is provided by PBS, National Endowment for the Arts, Lambent Foundation, The Anna-Maria and Stephen Kellen Foundation, The Andy Warhol Foundation for the Visual Arts, Toby Devan Lewis, The Horace W. Goldsmith Foundation, Henri Lambert, Nion McEvoy & Leslie Berriman, and Sakana Foundation.
Series Creators: Susan Dowling and Susan Sollins.
©2020 Art21, Inc.
Closed captionsAvailable in English, German, Romanian, Italian, Japanese, Korean, Chinese, Italian
Translate this video
Through the Art21 Translation Project, multilingual audiences from around the globe can contribute translations, making Art21 films more accessible worldwide.
Licensing
Interested in showing this film in an exhibition or public screening? To license this video please visit Licensing & Reproduction.
---
Extended Segments from "Borderlands"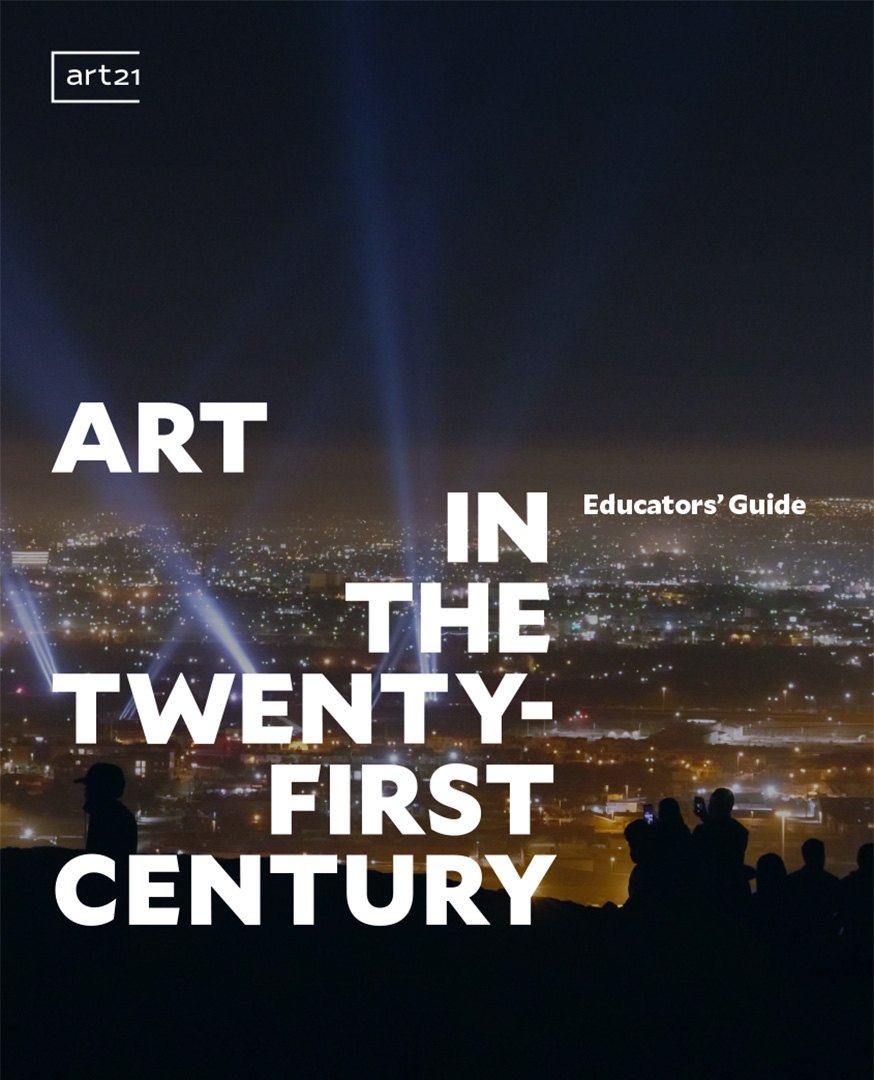 Educators' Guides provide information about selected artists and themes, questions for classroom discussions, and hands-on activities that provide students with a fundamental understanding of creative and critical thinking processes.