Wangechi Mutu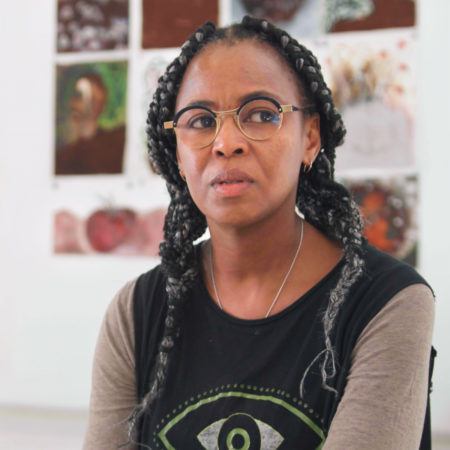 Wangechi Mutu was born in 1972 in Nairobi, Kenya. In her collages, drawings, sculptures, and films, Mutu centers the female body to create powerful and self-possessed figures that are hybrids of human, plant, animal, and machine forms. Sampling from a diverse array of sources—from natural materials to fashion magazines, medical diagrams, and traditional African arts—the artist creates otherworldly realms that examine cultural identity, the feminine, colonial history, and global consumption.
First recognized for her collage paintings, Mutu began her career combining ink and paint with fragments of images mined from fashion magazines, National Geographic, and vintage illustrations. With these materials, Mutu constructs elegant yet perverse female characters that subvert the ways in which Black and female bodies have been depicted, packaged, and consumed. The figures simultaneously embody the disjointed experience of navigating transnational identity, contemporary Africa, and Western preconceptions. Working extensively on nonabsorbent Mylar film, Mutu maneuvers colorful ink and paint on the surfaces of these works to build a fantastically dense and textured ground. In her varied sculpture practice, Mutu utilizes natural materials such as paper pulp and Kenyan soil while also working in monumental bronze. For her Sentinel series (2016–present), the artist creates regal and fierce abstract female forms made from clay, wood, and various found materials. Mutu describes these towering sculptures as guarding the very earth that they are made from; they serve as reminders of our relationship to the planet and harbingers of our environmental crisis. Mutu's bronze works, such as The NewOnes, will free Us (2019) and MamaRay (2020), are supernatural humanoid figures that contest the traditional roles of women in art and propose alternative iconography and modes of representation as well as potential futures.
Mutu received a BFA from Cooper Union for the Advancement of the Arts and Science and an MFA from Yale School of Art. She lives and works in New York and Nairobi.
"I'm trying to just push up the volume on how incredibly important every single plant, and animal, and human is in keeping us all alive and afloat."