Monica Valentine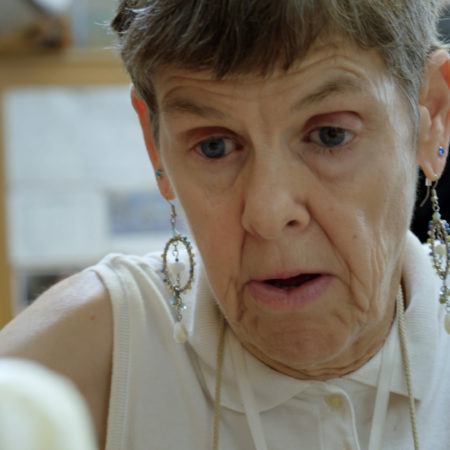 Monica Valentine was born in San Mateo, California, in 1955. Using pins, colored sequins, beads and shaped foam, Valentine creates sculptures that are both visually rich and tactile. From geometric cubes and spheres to more playful cake shapes, skulls and logs, Valentine's sculptures draw up the artist's fascination with color, despite her blindness.
Valentine relates to color through her other senses, such as touch, describing her ability to feel the heat of the color red and the cool of the color green. Through this synesthetic relation to color, Valentine speedily pins beads and sequins into the foam body of her sculptures, intuitively grouping similar colors together or positioning contrasting colors in relation to one another. Her work has been described as embodying her cheerfulness and dry sense of humor.
Valentine's works have been shown at Creative Growth and Outsider Art Fair. Valentine has worked out of Creative Growth Art Center in Oakland, California since 2012.