Creative Growth Art Center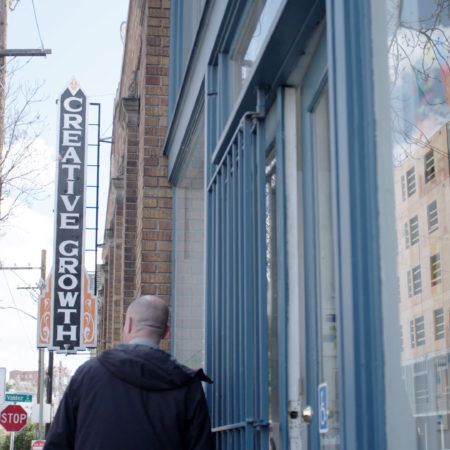 Creative Growth Art Center was founded by Elias and Florence Katz in 1974. Operating in a former car-body shop near downtown Oakland, California, Creative Growth provides studios, gallery space, and supplies to more than 150 artists with developmental, mental, and physical disabilities, who work in a wide array of media. Predicated on the belief that art is fundamental to human expression and that all people are entitled to its tools of communication, Creative Growth is an incubator of artistic activity that has fostered exemplary artists, such as Dan Miller, Judith Scott, William Scott, and Monica Valentine.
An outgrowth of the Bay Area grassroots collectivism and disability-rights movement of the 1970s, the nonprofit Creative Growth Art Center is currently run by the filmmaker and former curator, Tom di Maria. The organization's success challenges society's assumptions about inclusion and exclusion in art and culture, disability visibility, and access to creative expression as a human right; like any other contemporary artists, Creative Growth artists use art to tell their stories.
Creative Growth artists have had major exhibitions at the National Gallery of Art, Washington DC (Judith Scott, 2018); Venice Biennale (Dan Miller and Judith Scott, 2017); Brooklyn Museum (Judith Scott, 2015); Museum of Modern Art (Dan Miller, 2008); and White Columns (William Scott, 2009, 2006). Creative Growth Art Center is located in Oakland, California.
Creative Growth Art Center
We don't teach in a traditional way. We say: what would you like to do, what are you thinking about, what did you dream about, what kind of color do you like? Tell us your story.
Tom di Maria, Director of Creative Growth Art Center