Lynn Hershman Leeson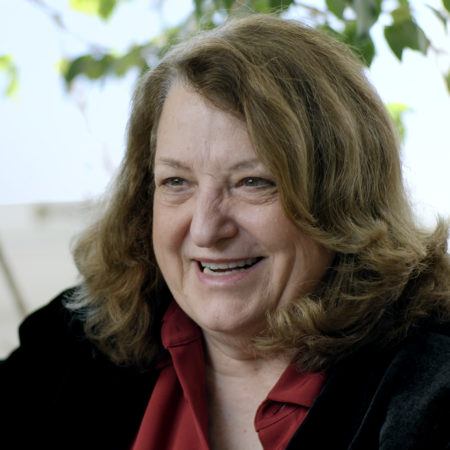 Lynn Hershman Leeson was born in Cleveland, Ohio in 1941. At once a pointed critic and a sly practical jokester, Hershman Leeson has worked across a wide range of mediums, from drawing, painting and sculpture to interactive films, net-based media works, and artificial intelligence. Overlooked for the better part of her decades-long career, Hershman Leeson is a pioneering multidisciplinary artist, critiquing the deep seated gender biases that have excluded her and other women artists.
From her early performances as the fictional Roberta Breitmore to her recent surveillance installations, Hershman Leeson has focused on the role that technology, media and artifice play in contemporary culture. Her work continues to forecast some of today's most pressing topics: the relationship between humans and technology, the role of media as a tool of both empowerment and repression, and the moral quandaries of technological advancement.
Hershman Leeson attended San Francisco State University. Her awards include the San Francisco Film Society's "Persistence of Vision" Award (2017); College Art Association's Lifetime Achievement Award (2017); United States Artists Fellowship (2016); John Simon Guggenheim Memorial Foundation Fellowship (2009); Siggraph Lifetime Achievement Award (2009); Creative Capital Grant (2008); Alfred P. Sloan Foundation Prize (2002); and Prix Ars Electronica Golden Nica (1999). She has had major exhibitions at the Legion of Honor and de Young Fine Arts Museums of San Francisco (2017); Yerba Buena Center for the Arts (2017); Cleveland Museum of Art (2016); ZKM Center for Art and Media Technology (2014); San Francisco Museum of Modern Art (2013); Kunsthalle Bremen (2012); The Kitchen (1999); Museum of Modern Art (1999, 1991); National Gallery of Canada (1995); Institute of Contemporary Art, London (1991). Her feature films have screened at the Sundance Film Festival, Toronto Film Festival, and Berlin International Film Festival. Hershman Leeson lives and works in San Francisco.
Links:
Artist's website
"He said that women weren't good investments. Women artists didn't make a good investment. He was wrong."