Katharina Grosse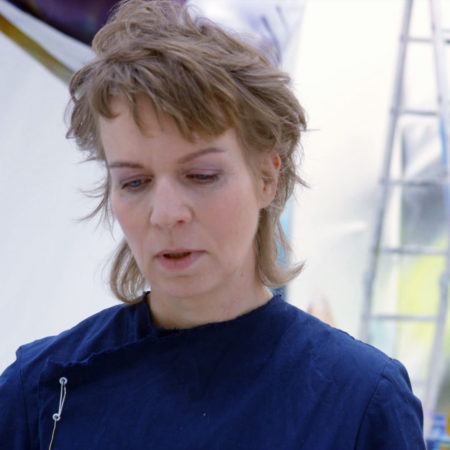 Katharina Grosse was born in 1961 in Freiburg/Breisgau, Germany. Grosse is a painter who often employs electrifying sprayed acrylic colors to create large-scale sculptural environments and smaller wall works. Interested in the shifts of scale between 'imagining big' while being small in relationship to one's surroundings, she explores the dynamic interplay between observing the world and simply being in it. By uniting a fluid perception of landscape with the ordered hierarchy of painting, Grosse treats both architecture and the natural world as an armature for expressive compositions of dreamy abandon, humorous juxtaposition, and futuristic flair.
Her projects often suggest complex narratives through the inclusion of everyday objects, psychedelic vistas, and evocative titles. By building up layers of color with an expressive immediacy, she enables her work to become a material record of its own making and, perhaps, an inscription of her thoughts. But, Grosse says, "I am the painting trickster. Don't believe me!"
Katharina Grosse studied at the Kunstakademie Düsseldorf, where she currently teaches, having previously been a professor at Kunsthochschule Berlin-Weissensee (2000–10). Among the honors she has received are the Oskar Schlemmer Prize (2014); Fred-Thieler-Preis (2003); Stipendiaten der Stiftung Kunstfonds (1995); Schmidt-Rottluff-Stipendium (1993); and the Villa-Romana-Stipendium, Florence (1992).
Major exhibitions of Grosse's work have appeared at Public Art Fund (2013); Nasher Sculpture Center (2013); De Pont Museum of Contemporary Art, Netherlands (2013); MOCA Cleveland (2012); Mass MoCA (2010); Arken—Museum for Moderne Kunst, Copenhagen (2009); Prospect New Orleans (2008); Renaissance Society (2007); De Appel, Amsterdam (2006); Contemporary Art Center, Cincinnati (2006); Taipei Biennial (2006); Bergen Kunsthall (2005); Magasin 3 Stockholm Konsthall (2004); Contemporary Arts Museum Houston (2004); São Paulo Bienal (2002); and the Hammer Museum (2001), among others. Katharina Grosse lives and works in Berlin, Germany.
Links:
Artist's website
Katharina Grosse: Just Two of Us, Public Art Fund, New York