Josiah McElheny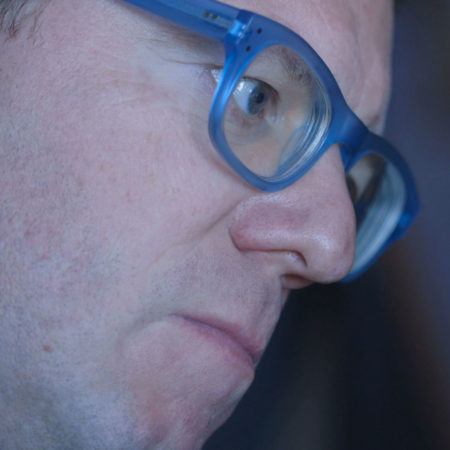 Josiah McElheny was born in Boston, Massachusetts, in 1966, and lives and works in Brooklyn, New York. He received a BFA from the Rhode Island School of Design, and apprenticed with master glassblowers Ronald Wilkins, Jan-Erik Ritzman, Sven-Ake Caarlson, and Lino Tagliapietra. McElheny creates finely crafted, handmade glass objects that he combines with photographs, text, and museological displays to evoke notions of meaning and memory.
Whether recreating miraculous glass objects pictured in Renaissance paintings or modernized versions of non-extant glassware from documentary photographs—or extrapolating stories about the daily lives of ancient peoples through the remnants of their glass household possessions—Josiah McElheny's work takes as its subject the object, idea, and social nexus of glass. Influenced by the writings of Jorge Luis Borges, McElheny's work often takes the form of "historical fiction"—which he offers to the viewer to believe or not. Part of McElheny's fascination with storytelling is that glassmaking is part of an oral tradition, handed down generation to generation, artisan to artisan.
In Total Reflective Abstraction (2003–04), the mirrored works themselves refract the artist's self-reflexive examination. Looking at a reflective object becomes a metaphor for the act of reflecting on an idea. Sculptural models of Modernist ideals, these totally reflective environments are both elegant seductions as well as parables of the vices of utopian aspirations.
Recipient of a Louis Comfort Tiffany Foundation Award (1995) and the 15th Rakow Commission from the Corning Museum of Glass, McElheny has had one-person exhibitions at Henry Art Gallery, Seattle; Isabella Stewart Gardner Museum, Boston; Yerba Buena Center for the Arts, San Francisco; and Centro Galego de Arte Contemporánea, Santiago de Compostela. His work has been exhibited at SITE Santa Fe and the Whitney Biennial (2000).
"The definition of being a modern person is to examine yourself, to reflect on yourself and to be a self-knowledgeable person."