Dan Miller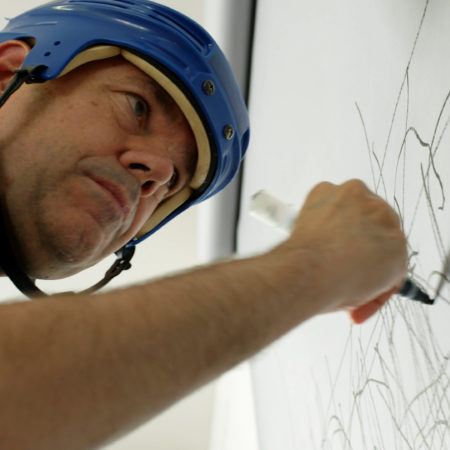 Dan Miller was born in Castro Valley, California, in 1961. Working with paper, ink, pencil, and paint, Miller illustrates dense layers of words and letters and objects such as light bulbs and electrical sockets, obsessively repeated into abstraction. These layers are superimposed upon each other and amalgamate, resulting is monochromatic fields of patterned forms and bold strokes.
His impressive canvases, sometimes measuring over twelve feet tall, serve as a way for Miller to organize, process, and communicate with the world around him. Rendering visible "the cacophony that is daily life," Miller's work "articulate[s] something of the relentless ebb and flow of thoughts, ideas and emotions that are common to us all." In recent years, he has expanded his use of materials to include wood, textiles, and ceramics.
Miller has had solo exhibitions at galleries internationally and been featured in major art fairs including Frieze New York, The Armory Show, the 57th Venice Biennale, and NADA Miami. His work is held in the permanent collection of the Museum of Modern Art, the Smithsonian American Art Museum, the American Folk Art Museum, and the Berkeley Art Museum. In 2015, Miller received the Wyn Newhouse award, an annual grant for artists with disabilities.
Dan Miller lives in Hayward, California, and continues to work out of Creative Growth Art Center.