Barbara Kruger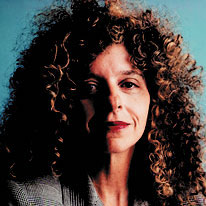 Barbara Kruger was born in 1945 in Newark, New Jersey, and currently lives in New York and Los Angeles. She attended Syracuse University's School of Visual Arts in 1964 and studied art and design at Parsons School of Design in New York in 1965. Kruger began her career as a graphic designer and picture editor at Conde Nast Publications, an experience that greatly impacted her artistic practice. Using the visual tropes, language, and design aesthetics of commercial advertising and magazines, the artist creates images and installations that reflect and critique the ways in which mass-media culture influences our beliefs at a societal and individual level.
Kruger layers found photographs from existing media sources with pithy and aggressive text that involves the viewer in the struggle for power and control that her captions address. Much of her text interrogates the viewer about feminism, classism, consumerism, and individual autonomy and desire, appropriating images from mainstream magazines that sell the very ideas she is disputing. In the iconic 1989 Untitled work, Kruger overlays the sentence, "Your body is a battleground," produced in her trademark black letters against a slash of red background, across a split black-and-white image of a woman's face. The artist created this work for the Women's March on Washington in 1989 after anti-abortion legislation began to undermine the Roe v. Wade U.S. Supreme Court decision, marking the beginnings of the artist's continued commitment to advocating for women's reproductive rights. Untitled (Your body is a battleground) is one of many works Kruger began reconfiguring in 2019, using a large LED screen to animate the image into a fragmented jigsaw puzzle. The work pieces itself together to reveal the confrontational phrase and others like "My body is money" and "your will is bought and sold," further complicating the viewer's role and sense of agency in a collective political struggle.
Kruger's works often occupy physical space, appearing on billboards, buscards, and posters or in a municipal park, a train station platform in Strasbourg, France, and other public commons. Her installation created for the 59th Venice Biennale, The Milk of Dreams, is mapped to span the site's spatial dimensions from floor to wall, covering its surface in colossal bold phrases that rhetorically command viewers to "PLEASE CARE," "PLEASE MOURN," "PLEASE ADORE." Accompanied by a three-channel video, the work simultaneously presents and amends the U.S. Pledge of Allegiance to subvert and question the logic of nationalism and the contradictions and violence it relies on. Over her decades-long career, Kruger continues to appropriate the recognizability of commercial messaging and mass-media delivery to unveil new meanings that dig at deeper social truths. By implicating the viewer directly, the artist blurs the lines between what we collectively consume as art, as product, and as ideology, suggesting that there is little distinction.
By Barbara Kruger with John McEnroe
"Where we're born, what we are given, and what is withheld from us determines who we can be in the world."