Interview
Shifting Observations
Catherine Opie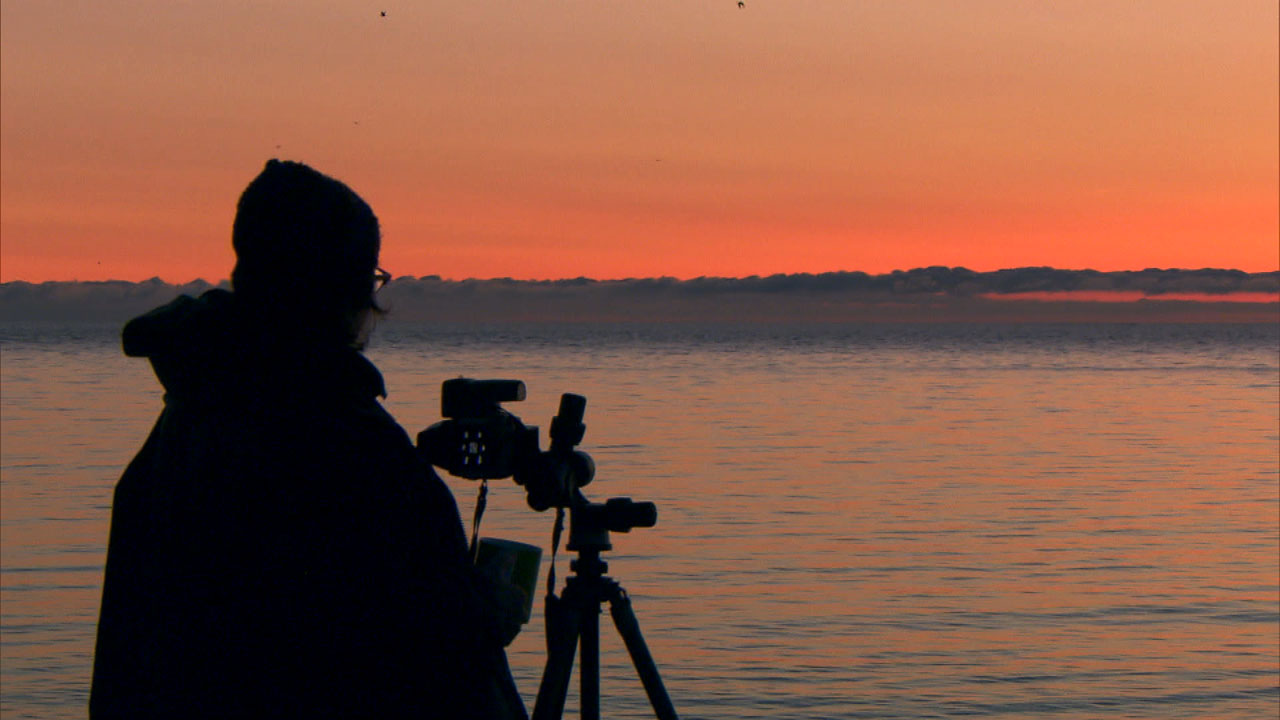 In this 2011 interview with artist Catherine Opie at her Los Angeles studio, she discusses her style of documentary photography; influential artists and techniques; her interest in religion; and the idea of America as the great democracy.
ART21: Talk about the impact that paintings had on you growing up.
OPIE: I have vivid memories of going to the National Portrait Gallery. I was probably eight or nine. So often, we relate much easier to a visual world. Even though I've always been a heavy reader; I love fiction. That provides other kinds of images for me in my mind. But I think that I really felt very good about seeing those early paintings, and that's one of the reasons why I've always been in love with a kind of rich light. And I think that's why people often call my work paintings—because I'm using more tropes of lighting in relationship to painting than photography. I like faces to disappear in a shadow, which they would do very easily in a painting. In a photograph, that's bad lighting. When I was printing all of my work, it was very dark printed. I remember my teachers saying, "You know, you're printing a little heavy-handed. And I would just say, "I like the way that looks."
ART21: What do you mean by "early" paintings?
OPIE: Renaissance paintings. Dutch still lifes. I still sit with books of Dutch still lifes. I have a hard time with things that are formally messy. To the core, I have formal ideas of the way that things should look. And I think that also goes back to seeing those paintings in my childhood. They just felt right to me. Everything was in its place.
ART21: Could you describe the line of documentary photography that you descend from, and then explain how you have gone off in your own direction?
OPIE: I picked up a camera when I was nine. I was interested in photography first through the sources that were at home. It was Life Magazine; it was Look; it was National Geographic. It was the notion that photography came out of a need to create a narrative in relation to life, and that you created this sense of document that also was history. When I went to San Francisco Art Institute and I was studying with Henry Wessel, Jr., Larry Sultan, John Collier, Jr., it was directly out of the Szarkowski school of photography: looking always at Winogrand, at Arbus; reading Szarkowski's book Looking At Photographs; looking at that whole history of MoMA collecting from Steichen to Szarkowski. I was really interested, early on, in being a street photographer. I loved the images of Helen Levitt. I was amazed by what Robert Frank did—that photography worked best in relationship to pure observation. That was the core of it in relationship to its medium. But at the same time, the up-and-rising contemporary conversation in art in relationship to photography was the Pictures Generation—having Sherrie Levine begin to photograph Walker Evans and say that it was hers. Cindy Sherman. Richard Prince. That work was never really a part of my discourse at San Francisco Art Institute. When I went to CalArts it was challenging to have practiced and be fairly competent at a craft and feel that I absolutely didn't know anything that was happening on a contemporary level. I was studying with Allan Sekula and Catherine Lord. We weren't reading semiotics; post-modernism wasn't being discussed. We didn't all have October opened up, reading what Rosalind Krauss had to say. Within that two-year period there was an expectation for me to completely adopt and adapt that language in relationship to my practice. It was really difficult at first. I felt completely displaced in what a photograph could do. So I kept going out and making photographs of what I was observing. And I would bring them back in and I would talk about them in critique class and be questioned a lot. They were really hard questions to answer. Then I would go out and I would make more photographs instead of stopping working because I thought it was all bullshit, which is what a lot of my other fellow students were doing. And I realized at a certain point, after working on the same thing for two years and trying to break up what they were saying to me and what I believed in, that I could still create something in relationship to ideas of representation that felt like a document for me. But what I had to do at the same time was begin to critique the validity of it. Instead of it being real, which is what I came off of in terms of the street photography, it became representational. So there was a time when I just though, "Oh, I just need to shift my language here. I can still do what I'm doing, but in terms of being a practicing contemporary artist, I need to be able to shift certain ways that I construct things and look at them."
I started to go inside myself a little bit more in relationship to my own belief of what I was framing and portraying and representing for my audience versus trying to hold onto street photography and observation as being real. I had to fight that impulse of wanting it to exist just because it was important that it existed. And I think to a certain extent I still fight that a little bit. I still think that photography operates both in terms of the real and the not-real—that it is my construct. So the fight for me now is in relationship to PhotoShop. I don't take things out and I don't put things in.
It's really important for me that I still can find something valuable in relationship to the idea of an early observational photographer—that it can be found and I can wait for it. I can wait for light to change, and I can have a moment of meditation. I can allow that to happen. And that is my "real" that still comes from the platform of being an observational photographer, which is defined in relationship to a documentary practice.
ART21: You come from a part of the country that had utopian colonies. How do notions of utopia impact and maybe reflect out of your work? And how might you talk about this to someone who wouldn't have connected utopian thinking to your work?
OPIE: I am really interested in utopia and also the dystopic. I've read a lot of sci-fi novels that play with those ideas, and I'm a huge Octavia Butler fan. I'm interested in how she constructs ideas—not only of sexuality, but also what is utopic and dystopic. In a way, it's the same kind of binary as normal and abnormal. Supposedly we construct those binaries to be able to create a model to live by. My utopic notion is humanity: I'm utterly devoted and dedicated to being a humanitarian and trying to live my life in a way in which both my work and myself allow a kind of representation that creates kindness and a way to observe the world in relationship to how I think about it and view it. I have a hard time with mean photographs. There is already so much meanness and discouragement in this world. I'm not sure what it means to create representations of people that show them in their worst light. So I believe in creating representations that are sometimes tough but, at the same time, the core of humanitarian ideas exists within that. Even though there are some tough ideas in the work, it's still done in such a way that's not meant to ever be disturbing. So, my perfect world (which I'll never see because I don't believe that it exists) is about acts of kindness. It's about the fact that we have the ability not to have people starve. We have the ability not to go into war over religious ideology. We could become a sustainable country; we could stop global warming if we chose to. We choose not to. And that's the dystopic nature of us as humans. I could represent that, but I'm not interested in representing that. That's my everyday; that's the front-page newspaper. That's the Channel 4 News that I'm interested in creating a dialogue with in relationship to my time and what I observe. But I'm not interested in trying to make images that reflect what is so prevailing.
ART21: Are there were one or two bodies of work within your exhibition Empty and Full at the ICA Boston that you want to concentrate on in this conversation?
OPIE: I think Inauguration is interesting to talk about. Describing that event photographically compared to what the media was showing also hinges on ideas of utopia and dystopia. I decided that I wanted to create a portrait of our time in America, in relationship to the incredible opposition discourse. What I'm interested in is the notion of America being the great democracy (and I'm not sure that it's the great democracy). Within this notion there are always binaries—normal-abnormal, utopic-dystopic, Republican-Democratic. I really wanted to make American landscapes in terms of identity—through Tea Party rallies, the Inauguration, Boy Scout jamborees, the Michigan Womyn's Music Festival, immigration marches. I became really aware of people taking space—exercising their freedom of speech. I was more interested in the way they occupied landscape, whether or not I believe what was being spoken.
All of these things are always coming up in relation to the nightly news, and I'm fascinated with it as a construct. I love the nightly news; I have watched it since I was a kid. And that's probably because I was born in '61, and the nightly news was the constant of information: Vietnam and the civil rights movement. Those were the images that profoundly affected me—that formed me as a person—like the images of the Renaissance and paintings that I saw as a child in the art museums. And that's also probably, going deeper, the relationship to the notion of document or documentary in my work.
Right after 9/11 or when I had finished Wall Street (2001), I was looking at exhibitions around Chelsea, and there was just one flower exhibition after another. The way that photography was radically changing within the art world was frustrating for me. If you made work that had street-photography language within it, you were thought of as a photojournalist, and "documentary" as a language started getting wiped out. I was like, "Why aren't people observing anymore? What's wrong with this kind of observation?" I was compelled to pick up a camera and start photographing. I think it started with In and Around Home (2004–05), and I ended up photographing crowds of people. There are photographs in that body of work that are really important to me, that signified this shift of wanting to begin to photograph larger groups.
ART21: Which photographs are they?
OPIE: There's one of a University of Southern California tailgate party (Football Landscape #16, 2009); another of a demonstration at one of the houses in my neighborhood because thirty-one registered sex offenders were living there (In Protest to Sex Offenders, 2005); and there's another of a Martin Luther King march.
I was back on the street with a camera in my hand, like I was in the early '80s in San Francisco. I was looking at groups of people that had come together, and I realized that it was really important for me to no longer empty out the landscape, but to fulfill this other notion of creating documents of our time, in relationship to going out and observing—creating another way of looking at American landscape.
ART21: Are you thinking of building on that body of work?
OPIE: I don't think that any body of work is really finished for me, even though I want to do other things. Like, I really want to photograph a mass baptism in a river in the south. I'm interested in how religion has defined the politics of America. I'm trying to figure out a different way of imagining those ideas.
ART21: Does religion or some notion of religion in some strange way permeate all that you do?
OPIE: I'm fascinated with people's absolute belief systems. The permission they have taken in relationship to ideas of what it is to be a Christian is profound in my mind, in terms of the absolute hatred they profess. Religion comes up a lot, I think, in relationship to being queer. I have had signs held up to me saying, "God hates you; you will go to Hell." God hates me? I will go to Hell? What does that mean for you to be telling me that? I'm interested in the notion that religion is supposed to be the idea of a higher self. I am not sure why everybody is trying to define that his or her belief is the better belief system. I really struggle with this as a human being in relationship to a philosophical model of a system of belief in which people think they have it right, instead of everybody just saying, "Okay, you have your beliefs and maybe that's the way that you need for it to be constructed, but does it mean that I have to follow along?" I dig into the subjects of the work in an ongoing conversation in relation to the dilemmas that I have within my own mind. And I think that the clearest way to speak about it is that in a certain way the art for me is about the ability to create a conversation in terms of these disparate thoughts—these greater philosophical ideas.
Interview: Susan Sollins. Content Edit: Marybeth Sollins and Nicole J. Caruth. Published: December 2014. © Art21, Inc. Artwork Courtesy: Blum & Poe, Los Angeles and 303 Gallery, New York.