Valeska Soares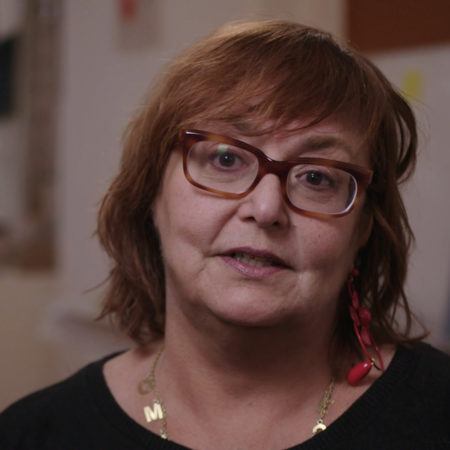 Valeska Soares was born in Belo Horizonte, Brazil, in 1957. Her sculptures and installations utilize a wide range of materials—including reflective mirrors, antique books and furniture, chiseled marble, bottles of perfume—and draw on both her training in architecture and the tools of Minimalism and Conceptualism. Contrasting polished, industrial materials with more ephemeral ones, Soares's work invites viewers to engage all five senses, evoking the poetic and elusive themes of desire, intimacy, language, loss, personal memory, and collective history.
Beginning her career in Brazil in the late 1980s before moving to New York City in 1992, Soares often explores site-specificity and the point of transition from one physical or psychological state to another. For the work Picturing Paradise (2000), she installed reflective stainless steel on the US-Mexico border, and for Finale (2013), she assembled half-filled vintage glassware on a mirrored banquet table, evoking a celebration that has been frozen in time. Eschewing the idea of making art with a single message, Soares revels in the multiple experiences and interpretations that viewers can bring to her work.
Valeska Soares received her bachelor of architecture degree from Universidade Santa Úrsula, Rio de Janeiro, in 1987, her postgraduate degree in the history of art and architecture from Pontificia Universidade Católica, Rio de Janeiro, in 1990, and her master of fine arts degree from Pratt Institute in 1994. Her awards and residencies include the Ida Ely Rubin Artist in Residence program at the Massachusetts Institute of Technology (2003), the John Simon Guggenheim Memorial Fellowship (1996), and CNPq Fellowship for Post-Graduate Studies Abroad from the Ministry of Science and Technology of Brazil (1994). Soares's work has been exhibited at The Jewish Museum, New York (2015); the Museum of Fine Arts, Boston (2014); Sharjah Biennial (2009); São Paulo Biennial (2009, 1998, 1994); Taipei Biennal (2006); Venice Biennale (2005); Liverpool Biennial (2004); Bronx Museum for the Arts, New York (2003); Museo Rufino Tamayo, Mexico City (2002); Museum de Arte da Pampulha, Belo Horizonte, Brazil (2002); National Museum of Women in the Arts, Washington, DC (2001); inSITE San Diego/Tijuana (2000–01); New Museum of Contemporary Art, New York (1995); Havana Biennial (1991), among others. Soares currently lives and works in Brooklyn, NY.
"I don't like tricks when it comes to materials. I need to feel that the work is true."