Nicholas Hlobo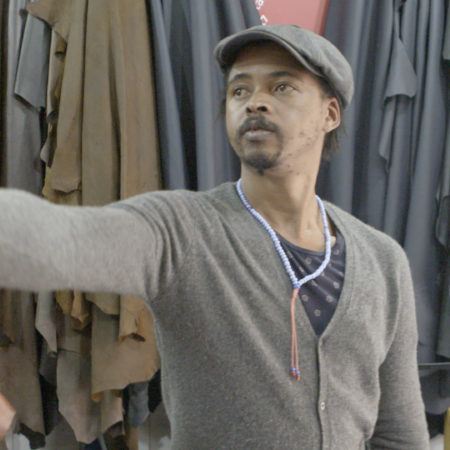 Nicholas Hlobo was born in Cape Town, South Africa, in 1975 and grew up in Transkei, South Africa. His works on paper, sculptures, installations, and performances utilize rubber, ribbon, leather, and a variety of domestic objects to explore both his identity as a gay Xhosa man and issues of masculinity, sexuality, and ethnicity in South African culture.
Subtly and subversively weaving together bodily innuendos and historical references, Hlobo uses raw materials to represent female and male forms and question gender roles. Interested in the history of colonization in South Africa and the broad and subtle ways that colonization occurs in contemporary life, Hlobo cuts and stitches materials back together, to represent the idea of the healing that follows a tearing apart.
Nicholas Hlobo received a fine-art degree from the Technikon Witwatersrand (2002). His awards and residencies include the Rolex Visual Arts Protégé (2010–11); Standard Bank Young Artist Award (2009); and Tollman Award for Visual Art (2006). He has had major exhibitions at Uppsala Konstmuseum, Sweden (2017); Museum Beelden aan Zee, The Hague (2016); Smithsonian National Museum of African Art, Washington DC (2015); Savannah College of Art and Design (2014, 2010, 2007); Museum fur Moderne Kunst, Frankfurt (2014); Locust Project, Miami (2013); Biennale of Sydney (2012); La Triennale at the Palais de Tokyo, Paris (2012); Venice Biennale (2011); National Museum of Art, Architecture and Design, Oslo (2011); Liverpool Biennial (2010); Tate Modern, London (2008); Institute of Contemporary Art, Boston (2008); Guangzhou Triennial, China (2008); and Studio Museum in Harlem (2008). Hlobo lives and works in Johannesburg.
"I'm looking at myself in relation to the world being South African, being black, being Xhosa, being a gay man, being a man. And I'm looking at the various cultures that has brought this country to where it is now."