Nathalie Djurberg & Hans Berg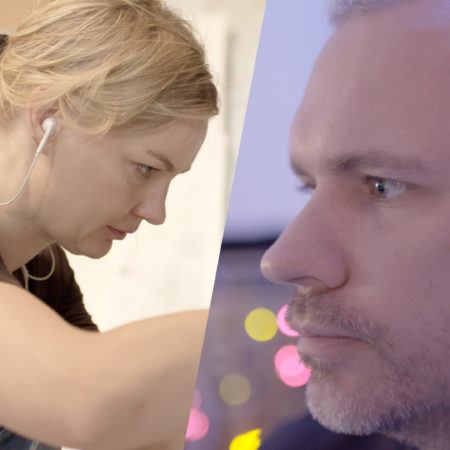 Nathalie Djurberg was born in Lysekil, Sweden, in 1978. Hans Berg was born in Rättvik, Sweden, in 1978. Mixing sculpture, sound, and filmmaking, the duo has collaborated since 2004 to create absurd and bawdy clay-animation films and installations. Their work exposes an undercurrent of psychologically charged human and animalistic desires with the sweet veneer of a childhood fairytale.
Djurberg intuitively handcrafts colorful clay figures and meticulously photographs each frame of the duo's stop-motion films, dramatizing the perverse personalities of the cast of people, animals, and objects. With roots in electronic music, Berg scores the compositions and atmospheric sounds that bring the animations to life. Together, they build elaborate immersive environments that marry moving images with hypnotic musical scores. At times nightmarish and grotesque, their films are imbued with dark sense of humor and emotional depth.
Nathalie Djurberg received her MFA from Malmö Art Academy, Sweden, in 2002. Hans Berg is a self-taught musician, producer, and composer. Their awards include the Cairo Biennale Prize (2010) and the Silver Lion, for a promising young artist at the Venice Biennale (2009). They have had major exhibitions at Stavanger Art Museum, Norway (2018); Shanghai 21st Century Minsheng Art Museum (2016); Perth Institute of Contemporary Art (2016); Australian Centre for Contemporary Art (2015); ARoS Aarhus Kunstmuseum, Denmark (2015); Walker Art Center (2011); New Museum (2011); Yerba Buena Center for the Arts (2011); Venice Biennale (2009); and Fondazione Prada, Milan (2008). Djurberg and Berg live and work in Berlin.
"Images evoke emotions; music or sound do it even more. Hans is an expert manipulator in that way."