Luchita Hurtado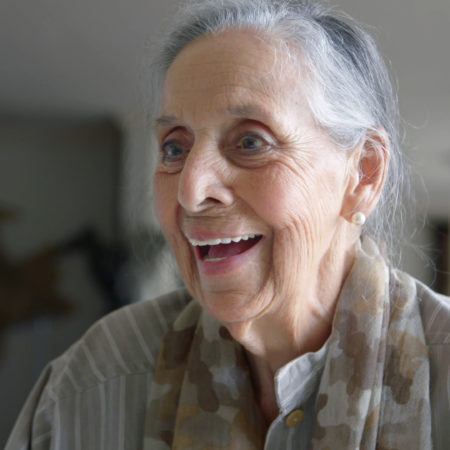 Luchita Hurtado was born in Maiquetía, Venezuela, in 1920. Working in painting, drawing, and prints, Hurtado has experimented with many different styles over the course of her 80-year career, yet maintained a unique, independent practice that explores the relationship between the human body and the natural world. In reference to a striking series of self-portraits from the 1960s and 1970s, in which the artist painted her body from her own downward facing perspective, Hurtado states, "I concluded that's all I had in the world, was myself. I am who I am because I'm doing what I want to do, not what I'm told to do."
Hurtado emigrated to the United States in 1928, settling in New York City, where she studied at Washington Irving High School and attended classes at the Art Students League. In the 1940s, she worked as a fashion illustrator for Condé Nast and painted murals for Lord & Taylor. The artist spent portions of her life in Mexico City, Mill Valley, California, and Taos, New Mexico and spent time with renowned artists closely associated with Surrealism, Magical Realism, and the Dynaton Group. Hurtado's own work often references her body and objects in her immediate surroundings, while also depicting more universal forms: human bodies dancing, colorful abstractions, blue skies with floating feathers, and mothers giving birth. These paintings and drawings engage the artist's interest in environmental activism and feminism. Hurtado's work was exhibited sporadically throughout her career, but remained a largely private practice. She began receiving wider critical acclaim and attention in the late 2010s.
Hurtado has had major solo exhibitions at the Serpentine Sackler Gallery, London, England (2019); Annenberg Community Beach House, Santa Monica, California (2017); and the Women's Building, Los Angeles, California (1974). Her work has been included in group shows since the 1950s, including at The Hammer Museum, Los Angeles, California (2018); Santa Barbara Museum of Art, Santa Barbara, California (2018); Matthew Marks Gallery, New York (2018); Hannah Hoffman Gallery, Los Angeles, California (2018); Night Club, Chicago, Illinois (2016); Carnegie Art Museum, Oxnard, California (1994); Transamerica Galleries, Los Angeles, California (1990); and Long Beach Museum of Art, Long Beach, California (1972). Hurtado lived and worked in Santa Monica, California, where she passed away in August 2020.
News & Events
Executive director and chief curator Tina Kukielski delivers a dispatch of Art21's latest on-goings.