Julie Mehretu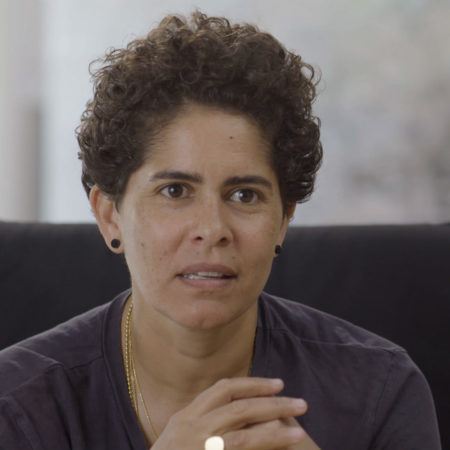 Julie Mehretu was born in 1970 in Addis Ababa, Ethiopia. She studied at University Cheikh Anta Diop, Dakar (1990–91), earned a BA from Kalamazoo College, Michigan (1992), and an MFA from Rhode Island School of Design, Providence (1997). She was a resident of the CORE Program, Glassell School of Art, Museum of Fine Arts, Houston (1997–98) and the Artist-in-Residence Program at the Studio Museum in Harlem (2001).
Mehretu's paintings and drawings refer to elements of mapping and architecture, achieving a calligraphic complexity that resembles turbulent atmospheres and dense social networks. Architectural renderings and aerial views of urban grids enter the work as fragments, losing their real-world specificity and challenging narrow geographic and cultural readings. The paintings' wax-like surfaces—built up over weeks and months in thin translucent layers—have a luminous warmth and spatial depth. Their formal qualities of light and space are made all the more complex by Mehretu's delicate depictions of fire, explosions, and perspectives in both two and three dimensions. Her works engage the history of nonobjective art—from Constructivism to Futurism—posing contemporary questions about the relationship between utopian impulses and abstraction.
Among Mehretu's awards are the Berlin Prize (2007), from the American Academy in Berlin; a John D. and Catherine T. MacArthur Foundation Award (2005); and the American Art Award from the Whitney Museum of American Art, New York (2005). Her work has appeared in major exhibitions at the Museum of Modern Art, New York (2007); Detroit Institute of Arts (2006); Walker Art Museum, Minneapolis (2003); and Albright-Knox Art Gallery, Buffalo (2003); among others. Mehretu has participated in the Sydney Biennale (2006); Carnegie International (2004); Bienal de São Paulo (2004); Whitney Biennial (2004); and the Istanbul Biennial (2003). Julie Mehretu lives and works in New York.