Joiri Minaya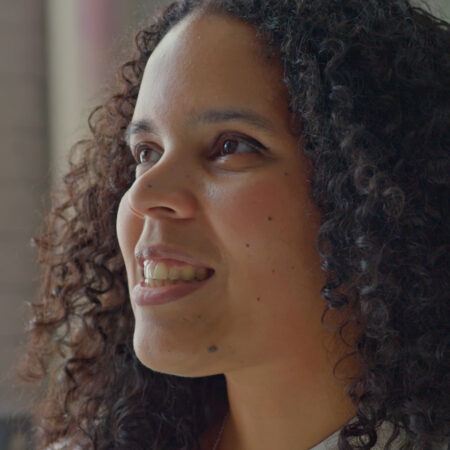 Joiri Minaya was born in 1990 in New York City, where she currently lives and works. She grew up in the Dominican Republic, earning Associate's Degrees from La Escuela Nacional de Artes Visuales in Santo Domingo in 2009 and Altos de Chavón School of Design in 2011 before returning to NYC for her BFA from Parsons New School for Design in 2013. Through photography, video, installation, and performance, Minaya interrogates tropical motifs found in popular culture and reveals how such motifs have been used to exotify Caribbean women. Referencing and subverting floral patterns, botanical illustrations, and stereotypes of the Caribbean, her colorful and playful configurations uncover colonial legacies persistent in Western culture.
Minaya's work begins with finding patterns in representation, observing how identities are constructed and reinforced through repetition. The artist looks to historical postcards, vintage textile patterns, dating catalogs, and Google image search results for "Dominican women" as source materials for her work. In her ongoing series Postcards, begun in 2015, Minaya replaces parts of women's bodies with bright tropical patterns. The artist translates this technique into physical space in the photographic series Containers (2015 – 2020) by posing in privatized outdoor settings – botanical gardens and tourist nature resorts – while wearing patterned spandex bodysuits that constrict and disguise her figure. Minaya's focus on pattern brings to mind the repetitive nature of trauma, wherein an unresolved rupture from the past echoes into the present. Her works offer controlled settings to confront and subvert the historical trauma of colonization, using tropical floral patterns to shield the bodies of people who have been coded as hypervisible.
Previously working with mass-produced textile patterns, Minaya created her own floral repeat patterns for her public intervention, The Cloaking (2020), in which she covered statues of Ponce de Leon and one of Christopher Columbus in printed spandex. The patterns Minaya made for the work draw on her research into what she calls "plants of resistance," used in food, medicine, weaponry, and cleansing rituals by Native and Afro-diasporic peoples of the Americas. For example, one pattern features the manchineel tree, which Florida's Native Calusa people used to poison arrows, including the one that killed Ponce de Leon. In her recent works, Minaya shifts her focus from the existing representations of the Caribbean that restrict its residents to engaging a variety of flora and landscapes as symbols of liberation, resistance, and refuge. In Divergences (2020), the artist references Quindaro, a maroon colony in the American midwest and key site in the struggle against slavery, juxtaposing idyllic depictions of the landscape in commercial wallpapers with figures camouflaged against them. Through her work, Minaya explores pattern as both a site of control and resistance, identifying and highlighting prescriptive images and motifs while simultaneously demonstrating strategies of refusal, escape, and sanctuary.
"I'm interested in the idea of opacity, a right to remain opaque, even to yourself, even things that you may not understand about yourself, and being at peace with that and not having to explain yourself to others."