Jason Moran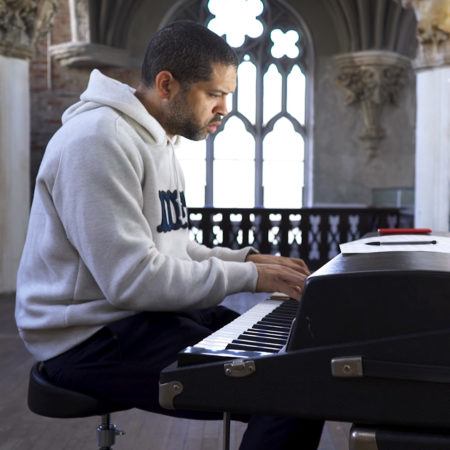 Jason Moran was born in 1975 in Houston, Texas. A pianist, composer, and bandleader, Moran received a B.M. from the Manhattan School of Music in 1997. He was named a MacArthur Fellow in 2010 and is the artistic director for jazz at the Kennedy Center. Moran currently teaches at the New England Conservatory of Music, in Boston, Massachusetts.
An innovative and genre-crossing jazz performer, Moran has a venerable career as a recording and performing musician, marrying classical, blues, and jazz with hip-hop, funk, and rock in ways that continually expand genre boundaries. Moran has collaborated with jazz masters such as Charles Lloyd, Bill Frisell, and the late Sam Rivers, as well as the drummer Nasheet Waits and the bassist Tarus Mateen in the trio, The Bandwagon. Moran also collaborates extensively with a broad range of visual artists, including Adrian Piper, Joan Jonas, Glenn Ligon, Stan Douglas, Adam Pendleton, Lorna Simpson, Kara Walker, and Julie Mehretu. His work has been commissioned by the Walker Art Center, the Philadelphia Museum of Art, the Dia Art Foundation, the Whitney Museum of American Art, Jazz at Lincoln Center, and Harlem Stage.
Links:
Artist's website
Artist on Facebook
@morethan88 on Twitter
Kara Walker & Jason Moran
A weekly digest of things to watch, read, and hear from the comforts of your home, selected by Art21-featured artists and Art21 staff.