KING COBRA (Doreen Lynette Garner)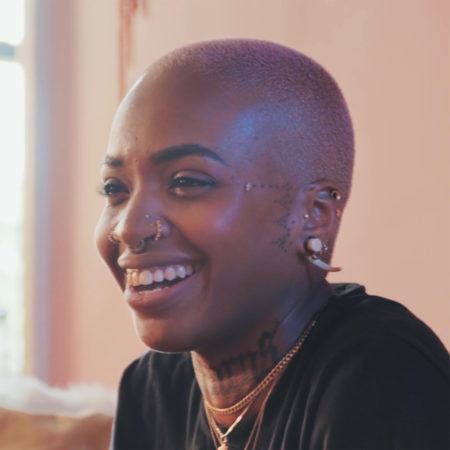 KING COBRA (documented as Doreen Lynette Garner) was born in 1986 in Philadelphia, Pennsylvania. She lives and works in Brooklyn, New York. Since graduating from Rhode Island School of Design with an MFA in glass in 2014, COBRA has created corporeal sculptures—that utilize glass alongside silicone, beads, crystals, rubber, synthetic hair, petroleum jelly, and other materials—to explore the frequently suppressed and traumatic medical histories of the Black body.
Her sculptures are often incorporated in her performances and video works, examining the links between clinical and medical repulsions alongside sensual and sexual fascinations. Assertively reclaiming power, COBRA's work confronts viewers, challenging them to consider their complacency in systems of objectification, racism, false narratives, and historical omissions while commemorating those who have been subjected to enslavement, medical torture, and racial oppression. COBRA has held residencies and fellowships at Recess Art, the International Studio and Curatorial Program, Socrates Sculpture Park, Pioneer Works, and Skowhegan School of Painting and Sculpture. She is also a licensed tattoo artist, a practice that extends her acknowledgment of the simultaneous resilience and silencing of African Americans throughout history.
"It's not about creating a gruesome work. It's about creating subtle nuance where you don't completely know how to feel. And maybe that's what stays with you."