Christine Sun Kim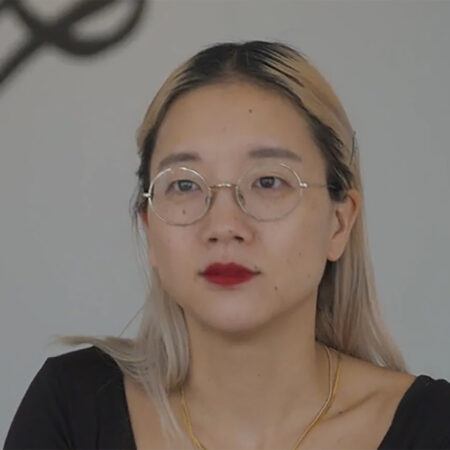 Christine Sun Kim was born in 1980 in Orange County, California, and currently lives and works in Berlin, Germany. Kim graduated from the Rochester Institute of Technology in 2002 before receiving MFAs from both the School of Visual Arts and Bard College in 2006 and 2013, respectively. The artist's practice in drawing, video, and performance creates space for new explorations of sound and gives voice to collective experiences of oppression and systemic inequality. Using American Sign Language (ASL), closed-captioning, graphic illustration, and more, Kim enunciates personal and collective grievances, demands a political voice, and creates visibility for the Deaf community.
In the many facets of her practice, the artist calls attention to how the hearing world disempowers her and other members of the Deaf community. In her black-and-white drawings, Kim humorously describes experiences of anger and frustration that result from a lack of access and infringements on her rights, using infographics and illustration techniques to present her ideas as precisely as possible. In the series of drawings Degrees of Deaf Rage, a variety of mathematical angle drawings are deployed to demonstrate how angry a specific situation makes Kim, while in Shit Hearing People Say to Me, the artist plots out the frequency of different assumptions, requests, and impositions made by hearing people in a pie chart. In other drawings, the artist uses ASL to convey her message, as in The Sound of Temperature Rising (2019) or Time Owes Me Rest Again (2022), where the movement of words in ASL is used to create the image. In these works, Kim uses ASL to provide new ways to think about climate change or political exhaustion. In Captioning the City (2021), a series of text-based installations around Manchester, England, the artist demonstrates how expansive closed-captioning can be.
Her works often address things like "hearing etiquette," rules of behavior that cater to the experiences of hearing individuals, or instances when institutions or individuals infringe upon her access, rights, or autonomy. In the performance Nap Disturbance (2016), Kim choreographed a series of movements using household objects to create a range of sounds that might disturb a hearing person while taking a nap. In Cues on Point (2022), a two-channel video, the artist reflects on her ASL performance at Super Bowl LIV in 2020, where her efforts to provide faithful and accurate translations of the sung performances were frequently cut short by the broadcasting organizations. Through these works, Kim identifies the interpersonal and systemic ways in which her access and existence are subordinated. Through her practice, Kim brings greater visibility to Deaf culture while demonstrating how a deeper engagement might open new avenues for thought and critique.
"I've just been noticing that my life is just one big echo. Or, rather, maybe just small echoes that become one big echo, and that's something that's been a part of my life since I was born."