Charles Atlas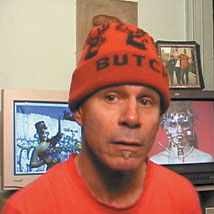 Charles Atlas was born in St. Louis, Missouri, in 1949. Atlas is a filmmaker and video artist who has created numerous works for stage, screen, museum, and television. Atlas is a pioneer in the development of media-dance, a genre in which original performance work is created directly for the camera. Atlas worked as filmmaker-in-residence with the Merce Cunningham Dance Company for ten years.
Many of Atlas's works have been collaborations with choreographers, dancers, and performers, including Yvonne Rainer, Michael Clark, Douglas Dunn, Marina Abramovic, Diamanda Galas, John Kelly, and Leigh Bowery. Television Dance Atlas—the artist's critically acclaimed prime-time event on Dutch television—was a four-hour montage of original and found footage incorporating dance styles as varied as ballet, burlesque, and figure skating. Atlas also creates video installation works. The Hanged One—a work inspired by symbolism from the Tarot and foot-fetish culture—incorporated numerous video elements as well as rotoscopes, motorized mannequins, and theatrical lighting. Atlas is the recipient of three Bessie (New York Dance and Performance) Awards. His feature-length film Merce Cunningham: A Lifetime of Dance won the Best Documentary Award at Dance Screen 2000 in Monaco.
His work has been shown at international institutions, including the Whitney Museum of American Art, New York; the Museum of Modern Art, New York; Musée National d'Art Moderne, Centre Georges Pompidou, Paris; Institute of Contemporary Arts, London; the Museum of Contemporary Art, Los Angeles; and Stedelijk Museum, Amsterdam. Atlas acted as Consulting Director for "Art in the Twenty-First Century" (Seasons 2 through 5), creating the original opening programs for each hour-long segment of Season 2, as well as supervising the "Stories," "Loss and Desire," "Memory," "Play," "Protest," and "Paradox" episodes. Charles Atlas lives and works in New York City and Paris.
By Charles Atlas with Merce Cunningham
By Charles Atlas with Margaret Cho

By Charles Atlas with Jane Alexander

By Charles Atlas with John Waters