Catherine Opie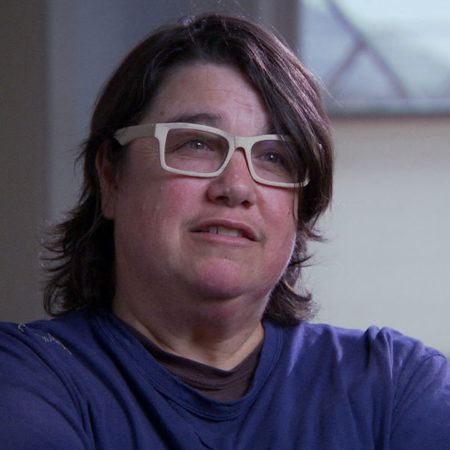 Catherine Opie was born in Sandusky, Ohio in 1961. Opie investigates the ways in which photographs both document and give voice to social phenomena in America today, registering people's attitudes and relationships to themselves and others, and the ways in which they occupy the landscape. At the core of her investigations are perplexing questions about relationships to community, which she explores on multiple levels across all her bodies of work.
Working between conceptual and documentary approaches to image making, Opie examines familiar genres—portraiture, landscape, and studio photography—in surprising uses of serial images, unexpected compositions, and the pursuit of radically different subject matters in parallel. Many of her works capture the expression of individual identity through groups (couples, teams, crowds) and reveal an undercurrent of her own biography vis-à-vis her subjects.
Whether documenting political movements, queer subcultures, or urban transformation, Opie's images of contemporary life comprise a portrait of our time in America, which she often considers in relation to a discourse of opposition. Her work resonates with formal ideas that convey the importance of "the way things should look," evidence of the influence of her early exposure to the history of art and painting.
Catherine Opie received a BFA from the San Francisco Art Institute (1985), an MFA from CalArts (1988), and since 2001 has taught at the University of California, Los Angeles. She has received many awards, including the President's Award for Lifetime Achievement from the Women's Caucus for Art (2009); United States Artists Fellowship (2006); Larry Aldrich Award (2004); and the CalArts Alpert Award in the Arts (2003). Her work has appeared in major exhibitions at the Institute of Contemporary Art, Boston (2011); Los Angeles County Museum of Art (2010); Guggenheim Museum, New York (2008); MCA Chicago (2006); and the Walker Art Center, Minneapolis (2002). Catherine Opie lives and works in Los Angeles, California.