Barbara Kasten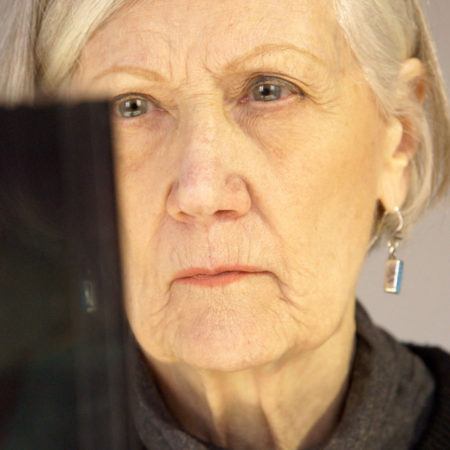 Barbara Kasten was born in Chicago in 1936. She makes photographs and video projections in her studio that evoke an experience of movement through modernist architecture. While abstract, her work is subversively political, asking viewers to fundamentally question their perceptions. Trained as a sculptor, Kasten began to investigate photography through cyanotypes of fabrics and photograms of objects placed directly on the paper.
This led her to photograph elaborate compositions of objects in the studio—such as Platonic shapes, paper, plexiglass, and wire—often illuminated by theatrical lighting and colored gels. When recorded by her large-format camera—and without digital manipulation—Kasten's arrangements become ambiguous in scale, confusing in spatial dimensions, and uncertain in differentiation between surface, shape, and shadow.
On a grander scale, Kasten also pictures architectural spaces and landscapes, manipulating the environment through carefully placed mirrors and dramatic gemlike tones. Kasten's video projections of rotating objects and planes of drifting color, cast onto building exteriors and interiors, destabilize the architecture through the optical fragmentation of forms.
Barbara Kasten attended California College of Arts and Crafts (MFA, 1970) and University of Arizona, Tucson (BFA, 1959). Kasten has had major exhibitions at MOCA Pacific Design Center (2016); Hammer Museum (2016); Worcester Art Museum (2016); The Graham Foundation (2015); ICA Philadelphia (2015); Künstlerhaus Bethanien, Berlin (2015); Museum of Modern Art, Frankfurt (2015); New Mexico Museum of Art, Santa Fe (2015); Museum of Contemporary Canadian Art, Toronto (2015); Museum of Modern Art, New York (2014); Museum of Fine Arts, Houston (2014); High Museum of Art, Atlanta (2014); Milwaukee Art Museum (2013); MCA Chicago (2013); Smithsonian American Art Museum (2013); LACMA (2012-13); and Kunstverein Nürnberg (2012), among others. Barbara Kasten lives and works in Chicago, IL, USA.
Links:
Artist's website