Xu Bing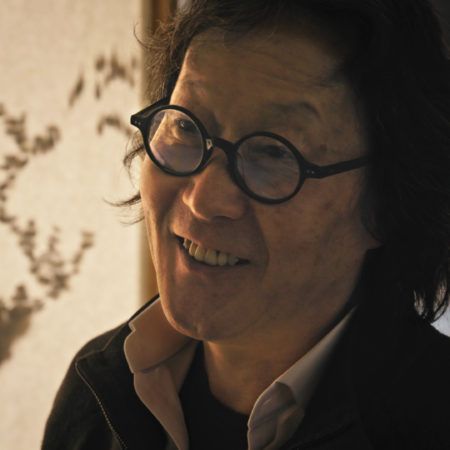 Xu Bing was born in 1955 in Chongqing, China, and grew up in Beijing. Fascinated with visual and written languages, Xu builds mixed-media installations that simultaneously evoke and subvert centuries-old Chinese cultural traditions, such as calligraphy, wood-block printing, and landscape painting scrolls. The artist asks viewers to consider how our cultural backgrounds, especially those shaped by language, fundamentally color our worldviews.
Near the end of the Cultural Revolution in the 1970s, Xu was sent to work in the countryside for two years as part of Mao Zedong's "re-education" policy; he later returned to Beijing to study printmaking and drawing. His installation Book from the Sky (1987–1991), in which he hard-carved and altered more than four thousand Chinese-character printing blocks in order to render nonsensical texts on sprawling, epic-scale scrolls, gained him international attention. Due to increasing artistic restrictions following the 1989 Tiananmen Square protests, Xu moved to New York City, where he lived for almost two decades. Playing with systems of language and disrupting viewers' expectations and perceptions has remained a throughline in Xu's works: in Square Word Calligraphy (1994–ongoing), the artist reconfigures English words to resemble Chinese characters, and in Background Story (2004–ongoing), he uses twigs, old newspapers, and plastic wrap to imitate Song Dynasty landscape paintings. Created with materials as varied as tobacco, construction debris, and surveillance-camera footage, Xu Bing's installations remain elegant and poignant, at once revering and questioning cultural traditions and challenging viewers' preconceived assumptions.
Xu Bing received his BFA and MFA from Central Academy of Fine Arts in Beijing, where he studied printmaking. Major awards include the U.S. Department of State Medal of Arts (2015); Artes Mundi Prize (2004); Fukuoka Asian Culture Award (2003); and a MacArthur Fellowship (1999). He has had major solo exhibitions at Museum of Modern and Contemporary Art, Jakarta, Indonesia (2020); Ullens Center for Contemporary Art, Beijing, China (2018); Macau Museum of Art, Macao (2017); Taipei Fine Arts Museum, Taiwan (2014); Victoria and Albert Museum, London, England (2013): Arthur M. Sackler Gallery, Smithsonian Institution, Washington, DC (2013); Singapore Art Museum (2013); MASS MoCA, North Adams, Massachusetts (2012); Asian Art Museum, San Francisco, California (2012); Shanghai Gallery of Art, China (2012); British Museum, London, England (2011); Today Art Museum, Beijing, China (2010); National Gallery of Prague, Czech Republic (2000); New Museum of Contemporary Art, New York (1998); and many others. His work has been included in the Venice Biennale, Italy (1993, 2015), the Biennale of Sydney, Australia (2000, 2002), and the Johannesburg Biennale, South Africa (1997), among other international exhibitions. Xu Bing lives and works in Beijing.