Salman Toor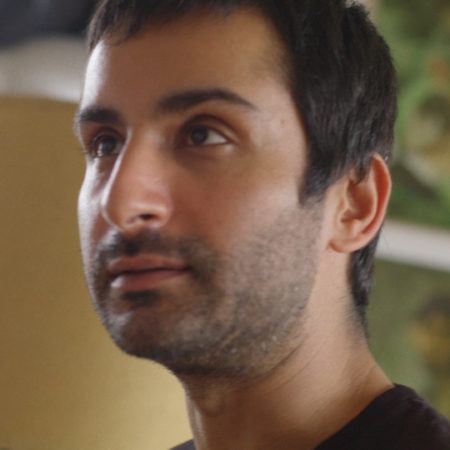 Salman Toor was born in 1983 in Lahore, Pakistan and lives and works in New York City. Toor received a BFA from Ohio Wesleyan University and an MFA from the Pratt Institute. Strongly influenced by Old Master and Surrealist works, the artist's intimate figurative paintings often draw from his own life as a queer man in New York City, tenderly depicting both the freedoms and vulnerabilities of his urbane, cosmopolitan community.
Toor began making pictures as a child in Pakistan, drawing imaginary friends and fantastical scenarios as a means of escape from his conservative surroundings. In 2002, the artist moved to the United States to study painting and Western art history, finding inspiration in Dutch Golden Age painting, a seventeenth-century movement of realist painting known for its vivid depictions of everyday human interaction and astute social observations. With this deep interest in traditional Western figuration, Toor paints elongated and exposed bodies in interior spaces, often in repose or in quiet communion, using short sketch-like brushstrokes to create tubular and entangled limbs. Working from memory and imagination, the artist is especially well-known for his intentionally non-naturalistic use of emerald green to depict interior and nighttime scenes, exploring that color's unique ability to evoke "glamorous" and "inviting" feelings. Focusing on his own cultured, urban, queer community, Toor's paintings imagine spaces of belonging and intimacy as well as more disquieting narrative scenes of queer men being dismissed, surveilled, or harassed. Paintings like The Star (2019), in which a brown figure sits before a mirror as two friends apply his make-up and hairspray stand in stark narrative contrast to works like Car Boys (2019) and The Beating (2019), depicting vehicular searches and violent assault. When juxtaposed against one another, these competing imaginings of queer life dramatize Toor's own fundamental sense, born out of his upbringing in a traditionalist culture—of the emotional and political precarity underlying his community. Alongside his painting practice, Toor makes sketches and explores compositions for future works, as well as producing works in ink, charcoal, and gouache.
Links:
Artist's website
A weekly digest of things to watch, read, and hear from the comforts of your home, selected by Art21-featured artists and Art21 staff.

Five new films are featured in Art21's fall 2021 programming season, starting with a new release available to watch today. New films will premiere every Wednesday in through mid-November.