Oliver Herring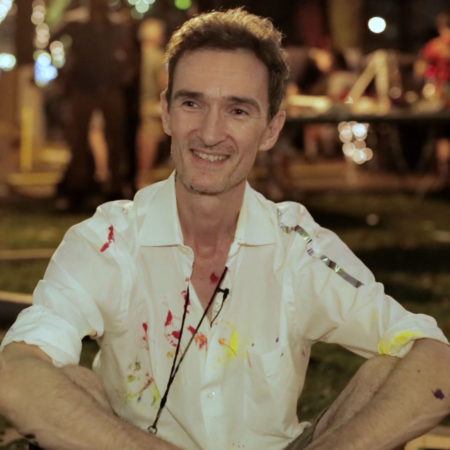 Oliver Herring was born in Heidelberg, Germany, in 1964, and lives and works in Brooklyn, New York. He received a BFA from the University of Oxford, Ruskin School of Drawing and Fine Art, Oxford, England, and an MFA from Hunter College, New York. Among Herring's early works were his woven sculptures and performance pieces in which he knitted Mylar, a transparent and reflective material, into human figures, clothing, and furniture. These ethereal sculptures, which evoke introspection, mortality, and memory, are Herring's homage to Ethyl Eichelberger, a drag performance artist who committed suicide in 1991. Since 1998, Herring has created stop-motion videos and participatory performances with "off the street" strangers. He makes sets for his videos and performances with minimal means and materials, recycling elements from one artwork to the next.
Open-ended and impromptu, Herring's videos have a dreamlike stream-of-consciousness quality; each progresses towards a finale that is unexpected or unpredictable. Embracing chance and chance encounters, his videos and performances liberate participants to explore aspects of their personalities through art in a way that would otherwise probably be impossible. In a series of large-scale photographs, Herring documents strangers' faces after hours of spitting colorful food dye—recording a moment of exhaustion and intensity that doubles as a form of abstract painting. Herring's use of photography takes an extreme turn in his most recent series of photo-sculptures: for these works, Herring painstakingly photographs a model from all possible angles, then cuts and pastes the photographs onto the sculptural form of his subject.
Herring has received grants from Artpace, New York Foundation for the Arts, and the Joan Mitchell Foundation. He has had solo exhibitions at the Museum of Modern Art, New York; Solomon R. Guggenheim Museum, New York; and New Museum of Contemporary Art, New York; among others.
Links:
TASK website