Martin Puryear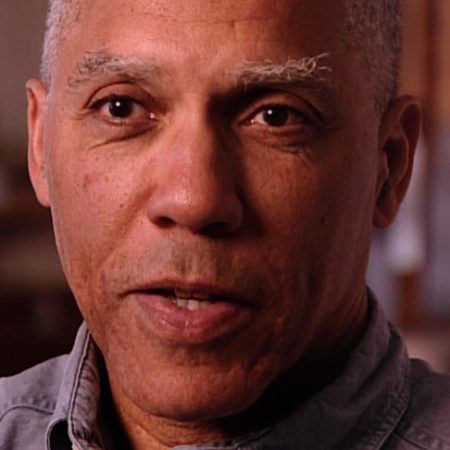 Martin Puryear was born in Washington, DC, in 1941. In his youth, he studied crafts and learned how to build guitars, furniture, and canoes through practical training and instruction. After earning his BA from Catholic University in Washington DC, Puryear joined the Peace Corps in Sierra Leone, and later attended the Swedish Royal Academy of Art. He received an MFA in sculpture from Yale University in 1971. Puryear's objects and public installations—in wood, stone, tar, wire, and various metals—are a marriage of minimalist logic with traditional ways of making. Puryear's evocative, dreamlike explorations in abstract forms retain vestigial elements of utility from everyday objects found in the world.
In Ladder for Booker T. Washington, Puryear built a spindly, meandering ladder out of jointed ash wood. More than thirty-five-feet tall, the ladder narrows toward the top, creating a distorted sense of perspective that evokes an unattainable or illusionary goal. In the massive stone piece, Untitled, Puryear enlisted a local stonemason to help him construct a building-like structure on a ranch in northern California. On one side of the work is an eighteen-foot-high wall—on the other side, an inexplicable stone bulge. A favorite form that occurs in Puryear's work, the thick-looking stone bulge is surprisingly hollow, coloring the otherwise sturdy shape with qualities of uncertainty, emptiness, and loss.
Martin Puryear represented the United States at the Bienal de São Paulo in 1989, where his exhibition won the Grand Prize. Puryear is the recipient of numerous awards, including a John D. and Catherine T. MacArthur Foundation Award, a Louis Comfort Tiffany Grant, and the Skowhegan Medal for Sculpture. Puryear was elected to the American Academy and Institute of Arts and Letters in 1992 and received an honorary doctorate from Yale University in 1994. Martin Puryear lives and works in the Hudson Valley region of New York.