Kiki Smith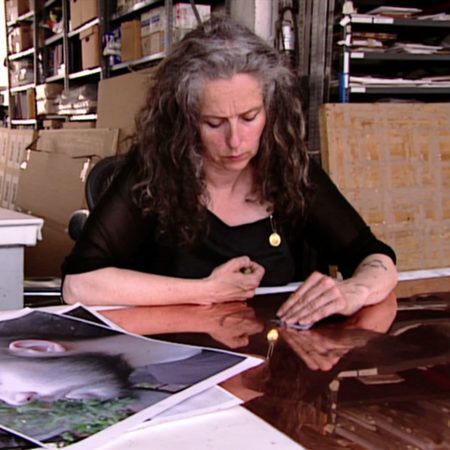 Kiki Smith was born in 1954 in Nuremberg, Germany. The daughter of American sculptor Tony Smith, Kiki Smith grew up in New Jersey. As a young girl, one of Smith's first experiences with art was helping her father make cardboard models for his geometric sculptures. This training in formalist systems, combined with her upbringing in the Catholic Church, would later resurface in Smith's evocative sculptures, drawings, and prints. The recurrent subject matter in Smith's work has been the body as a receptacle for knowledge, belief, and storytelling.
In the 1980s, Smith literally turned the figurative tradition in sculpture inside out, creating objects and drawings based on organs, cellular forms, and the human nervous system. This body of work evolved to incorporate animals, domestic objects, and narrative tropes from classical mythology and folk tales. Life, death, and resurrection are thematic signposts in many of Smith's installations and sculptures. In several of her pieces, including Lying with the Wolf, Wearing the Skin, and Rapture, Smith takes as her inspiration the life of St. Genevieve, the patron saint of Paris. Portrayed communing with a wolf, taking shelter with its pelt, and being born from its womb, Smith's character of Genevieve embodies the complex, symbolic relationships between humans and animals.
Smith received the Skowhegan Medal for Sculpture in 2000, the Athena Award for Excellence in Printmaking from the Rhode Island School of Design in 2005, the fiftieth Edward MacDowell Medal from the MacDowell Colony in 2009, and has participated in the Whitney Biennial three times in the past decade. In 2005, Smith was elected to the American Academy of Arts and Letters. Smith's work is in numerous prominent museum collections, including the Museum of Modern Art, New York; Walker Art Center, Minneapolis; Whitney Museum of American Art, New York; Solomon R. Guggenheim Museum, New York; the Metropolitan Museum of Art, New York; and the Museum of Contemporary Art, Los Angeles. Smith lives and works in New York City.