Jes Fan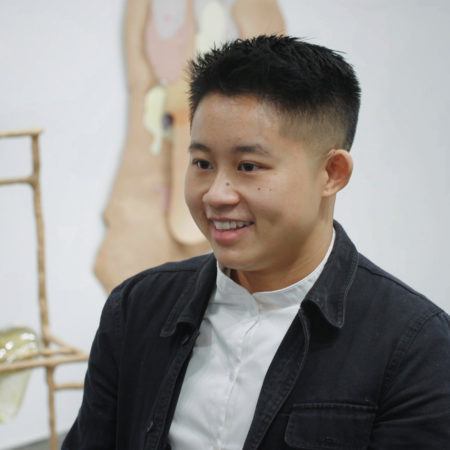 Jes Fan was born in 1990 in Canada, raised in Hong Kong, and lives and works in Brooklyn, New York. Fan received his BFA in glass from Rhode Island School of Design and works with glass, silicon, and resin to create sculptures that question binary conceptions of race, gender, and identity.
Test tubes and petri dishes feature prominently in Fan's practice, as the artist often utilizes biological substances such as testosterone, estrogen, and melanin in his sculptures. Fan has worked with a research lab to manufacture and extract these often politically contested materials, detaching them from the context of the body in order to examine their significance. For a series of sculptures entitled Systems, Fan injected testosterone, estrogen, and melanin into organ-like glass-blown globules, which were then precariously hung from forms resembling lattices. In the video work, Mother Is a Woman, Fan used estrogen from his mother's urine to create a custom beauty cream, asking if qualities like femininity and maternalism usually associated with estrogen could be transferred through a commercial product. Such works question the role that these biological substances have played in constructing binary identity categories and draw upon the artist's experiences of being racialized and gendered. Ultimately, Fan asks, "How can we be certain that the binary can satisfy us?"
News & Events

Executive director and chief curator Tina Kukielski delivers a dispatch of Art21's latest on-goings.

A weekly digest of things to watch, read, and hear from the comforts of your home, selected by Art21-featured artists and Art21 staff.
"Using testosterone to masculinize my body is in some way similar to using a chisel to carve out a surface. In a way, you're sculpting your body."