Heidi Lau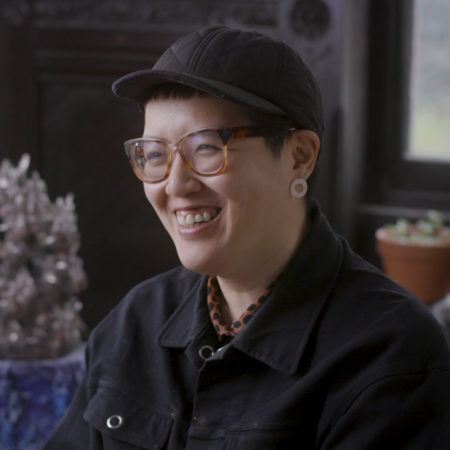 Heidi Lau was born in 1987 and grew up in Macau, China, and currently lives and works in New York City. Lau received her BFA from New York University in 2008, where she primarily studied printmaking and drawing. Dissatisfied with these mediums, the artist taught herself to make ceramics, creating works that evoke miniature architectures, funerary vessels, and creatures drawn from Taoist mythology. Building her works by hand, Lau channels and fuses her interests and influences into otherworldly objects that perforate the boundaries between the human and the spiritual.
Throughout her body of work the artist bridges realms and cultures. Her home of Macau was formerly a Portuguese colony; the territory was transferred to the sovereignty of the People's Republic of China in 1999. Living in the midst of this transition Lau often explored the architectural ruins of the waning colonial power, taking photographs of the cathedrals and other buildings left behind by the Portuguese while the new colonial presence of mainland China took root. This cultural collision is evoked in her work, particularly her Spirit Vessels, where elements of neo-classical Western architecture merge with Chinese styles to construct uniquely hybrid structures that evoke a space of rapid change, nostalgia, and loss.
Lau sees the labor of sculpting in clay as a way of grieving and caring for the deceased, as well as imagining realms beyond our own. After the passing of her mother she began researching the burial traditions of the Chinese Han and Qing dynasties, integrating them into her artistic practice. Lau's works often reference burial garments, funerary urns, and mingqi, ceramic goods traditionally entombed with the deceased and intended to comfort the dead in the afterlife. Having learned Taoist mythologies and practices from her grandparents, the artist often populates her sculptures with mythical figures and animals, like her Mother and Daughter (2020) sculpture. Uniting all the work is the artist's desire to imbue her sculptures with life, creating literal passageways for air and the spiritual world to pass through.
Something passes through me or my hands directed by the clay. Instead of me sculpting it, it's like it's sculpting me back.