Azikiwe Mohammed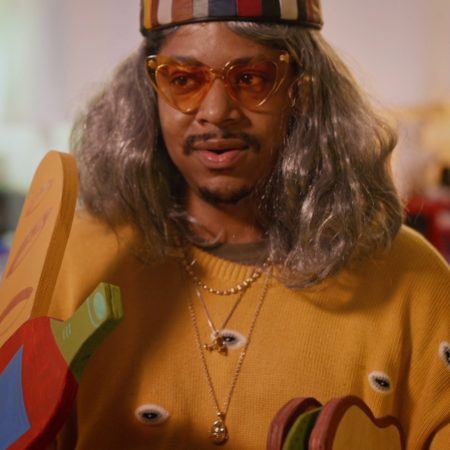 Azikiwe Mohammed was born in 1982 in New York City, where he lives and works today. In 2004 the artist received his BFA from Bard College. Rejecting the idea that art's ultimate aim is the expression of a creator's unique genius, Mohammed is a self described "guy who makes stuff," producing a playfully humble array of objects and spaces specifically intended to welcome and serve communities the fine arts world often overlooks.
Mohammed works fluidly across a wide variety of mediums, making paintings, jewelry, furniture, puppets, photographs, tapestries, and sculptures that draw from the unpretentious aesthetics of the Black homes he grew up in. Especially attracted to wood and neon for their emotional warmth, the artist often assembles his objects into immersive, room-like installations, making spaces in which viewers can feel instinctively safe and reflected in. Says the artist, "When I'm making spaces, it needs to be inviting …. Tones that live in spaces that I know have said yes to me."
Influenced by his father's creative career as a working photographer, Mohammed sees service – the ability to provide material and creative sustenance to others in need – as his central goal. To that end, the artist imagined the town of New Davonhaime, a composite of the names of five American cities with large populations of Black citizens: New Orleans, Detroit, Savannah, Jackson, and Birmingham. Within this fictional town the artist operates a number of real businesses and organizations, including Jimmy's Thrift of New Davonhaime, where the artist provides free services like professional portrait photography. Mohammed also created the New Davonhaime Food Bank, where the artist and volunteers distribute food across New York City. Fluently moving between traditional art objects, retail style experiences, and outright social service, the artist pushes through creative and institutional boundaries in pursuit of a larger aim of real world useful-ness.
"The role of an artist is still in service of whomever. This should be something that you're able to take or something that we can share together. And myself as a maker of objects, this seems to be useful to humans, to whatever degree. So as long as it's useful then I'll keep doing this job."