assume vivid astro focus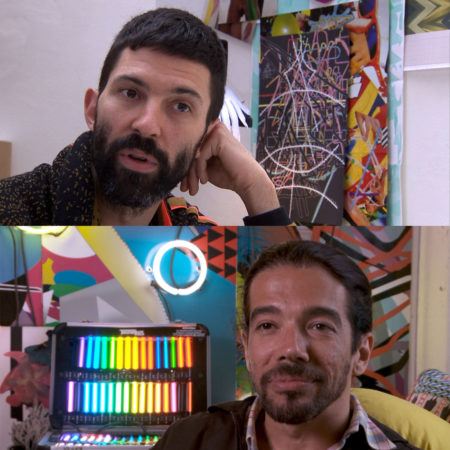 The collective assume vivid astro focus (avaf) was formed in New York City in 2001. Its principal members are Eli Sudbrack (born in Rio de Janeiro, Brazil in 1968) and Christophe Hamaide-Pierson (born in Paris, France in 1973). Avaf fuses drawing, sculpture, video, and performance into carnavalesque installations in which gender, politics, and cultural codes float freely. A study in visual adaptation and modification, avaf's work recycles and transforms imagery from one project to the next—often in the form of densely patterned wallpapers and graphic signage.
Personal expression and a lust for life feature prominently in projects simultaneously rooted in the politics of free speech, civil rights, and the dissolution of rigid classifications of class, gender, and national identity. In frequent collaborations with musicians, designers, dancers, and other artists, avaf challenges conventional assumptions about authorship and the role of the artist's persona in contemporary society and the art world.
Avaf has received awards from the Rema Hort Mann Foundation (2002) and the Public Art Fund (2007). Its work has appeared in major exhibitions at Centro De Arte Contemporaneo, Murcia (2010); the New Museum (2010); National Museum of Art, Architecture and Design, Oslo (2009); Yerba Buena Center for the Arts, San Francisco (2009); São Paulo Bienal (2008); ENEL Contemporanea, Rome (2008); Museum of Modern Art, New York (2008); Museo Reina Sofia, Madrid (2007); Museum of Contemporary Art (MOT), Tokyo (2007); Museum of Contemporary Art, Chicago (2007); Kunsthalle Wien Project Space, Vienna (2006); Museum of Contemporary Art, Los Angeles (2005); Indianapolis Museum of Art (2005); Tate Liverpool (2005); the Public Art Fund (2004); and the Whitney Biennial (2004). Eli Sudbrack lives and works in New York City and São Paulo; Christophe Hamaide-Pierson lives and works in Paris.