Anicka Yi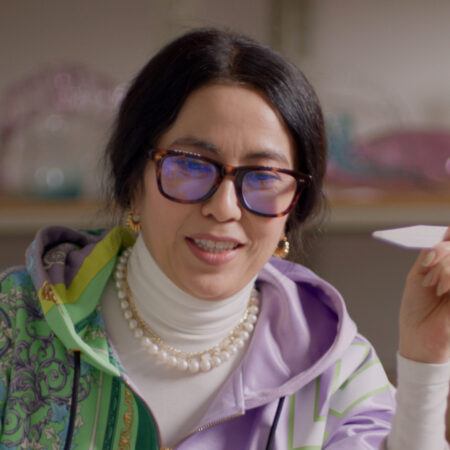 Anicka Yi was born in 1971 in Seoul, South Korea, and currently lives and works in New York City. The artist studied at Hunter College and the University of California Los Angeles. Yi works with unexpected and unpredictable materials, ranging from bacteria to tempura batter to artificial intelligence, creating works that embrace ephemerality and challenge our expectations and biases. Using tools and techniques from varied disciplines, Yi's practice manifests our culture's fictions, fears, and possible futures, asking where they might come from and how we might actualize or move beyond them.
In her practice, Yi explores the invisible politics and associations around smell by creating unique fragrances, embedding scent into sculptures, and diffusing odors through entire buildings. In its most benign forms, smell enters the artist's work to evoke a memory or tell a story, as in New York's A Bitch, But God Forbid The Bitch Divorce You (2014). Referencing different scales of history and erasure, the artist created two scents — "Divorce," suggesting broomsticks and cardboard, and "Bullfrog," reminiscent of a primordial swamp. Yi also uses smell to identify and critique social and political phenomena. This was the concept of Immigrant Caucus (2017), where Yi worked with a team of scientists to develop a fragrance from a mixture of Asian American women's sweat and the emissions of carpenter ants. Before viewers see Immigrant Caucus, the work enters their bodies and sensory perception through its scent, which diffuses through the Guggenheim Museum from steel insecticide canisters. Through these layers of sensation, Yi invokes an atmosphere that connects fears of contagion and contamination and their connection to anti-Asian and anti-immigrant sentiments in the United States, offering an opportunity for critical reflection. By deprioritizing the visual, the artist requires viewers to have visceral, bodily experiences of her works, connecting audience reactions to the specific identities, places, or periods from which these olfactory works develop.
Yi's technological, scientific, and artistic processes are essential in creating new, discomforting, and futuristic experiences that intentionally defy the conventions of traditional artwork. Along with her olfactory projects, Yi experiments with natural processes and technological operations that respond to stimuli in ways both similar and divergent from our own bodies. In works like Late Classical XIX (2022) and S.S.S. (2015), for example, the artist uses organic materials like flowers and soap that decay and degrade over time. For her installation In Love with the World (2021) the artist developed 'aerobes,' robotic beings programmed with artificial intelligence, and filled the Tate Modern's Turbine Hall with a series of 'scentscapes' referencing the history of Bankside where the Tate Modern is located, from the Precambrian to the Industrial age. Each aerobe has a personality, with behavioral patterns that shift and evolve in response to the atmospheric changes around them, referencing our evolutionary history as a species. Playing upon our preconceived notions and cultural inheritances, the artist presents an opportunity to break away from what we know in favor of experiences that can enrich and expand our worldviews, make us more curious and tolerant, and prepare us for our possible futures.
"Many of my works use this element of deterioration and perishable materials. I'm interested in the kind of mutations that can take place in these changes."